Gioma Bikestand at Florence Bike Festival 2017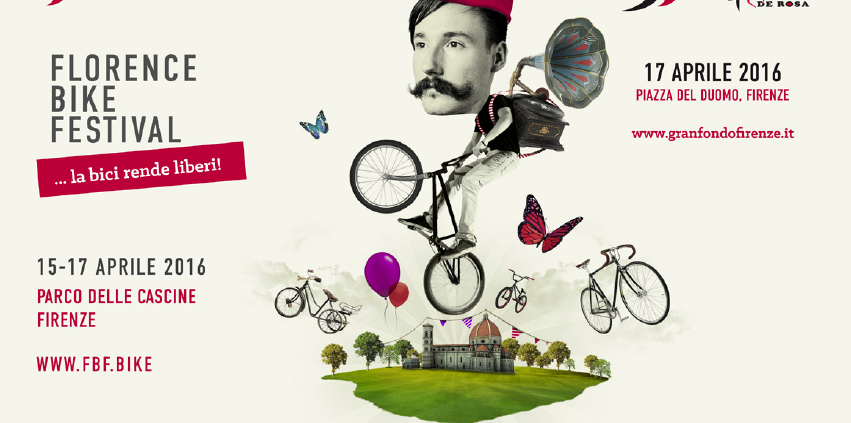 From April 21st to 23rd you will find us at the Expo Village of the bike event. Admission is free and the location is truly extraordinary: the Cascine di Firenze Park. During the three-day event we will present to two wheels lovers a new product. A technical item designed and manufactured for the new season 2017, which will enrich the catalog Gioma Bikestand appreciated both in Italy and abroad.
Florence Bike Festival fifth Edition
The FBF, organized by Veloce Club Firenze, has its top event: the Florence Marathon De Rosa. 130 km up an down on the hills between Fiesole and Mugello, departing from Piazza della Signoria in Firenze Sunday, April 23rd. A major event for thousands of sportsmen and enthusiasts.
The Velodrome
"Among the innovations," explains Mauro Niccoli and Alessandro Cipriani, the organizers "we have this year the Velodrome Cascine. It will host the first race on the track. But in the city will be held many other events dedicated to the public and visitors. "
Sun Rise Bike Ride
Saturday, April 22nd the SunriseBike Ride will start in partnership with Uisp Florence, a group bike ride through the streets of the city starting from dawn from Cascine to appreciate the historical, architectural and landscape beauty of Florence. The event is for everyone, families with kids.
Expo village
The expected exhibition event "open air" in Florence's Cascine Park is back. You will find us here at the expo village of FBF, where companies, products and innovations in the bike world meet cyclists. Florence Bike Festival brings together the world of the cycle manufacturers in exhibition area to present to fans the news and innovations. We look forward to see you there and to show you our 2017 novelties !
Radio, TV, newspapers, social
A cycling festival with a 360 ° communication that appeals to the great world of bike lovers. Florence Bike Festival has prestigious media partners such as the Society Editorial, with their Bicisport, Cycling and MTB Magazines and collaborations with leading newspapers, radio and television.
Florence Bike Festival is a free admission event organized by UISP of Florence Committee, faster Club Florence and SICREA srl. Made with the support of the Tuscany Region, the Metropolitan City and the City of Florence.
https://www.giomabikestand.com/wp-content/uploads/2017/04/Schermata-2015-12-03-alle-11.40.05.png
601
851
BIKE@gioma
/wp-content/uploads/2017/01/Logo_Gioma-cavalletti-espositori-bici.png
BIKE@gioma
2017-04-03 12:21:26
2017-04-13 09:48:04
Gioma Bikestand at Florence Bike Festival 2017